Thousands of people took to the streets Tuesday night to protest in dozens of cities across Iran following the death last week of Mahsa Amini, a 22-year-old Iranian woman who was in the custody of the morality police, writes CNN.
In footage shared on social media, a crowd in the center of Kerman can be seen cheering and cheering on a woman who cuts her uncovered hair, just one of many protests in several regions of Iran.
The footage shows the protesters, mostly men, chanting: "Women, life, freedom." Others battle security forces, set fire to scarves and destroy posters depicting the country's Supreme Leader Ali Khamenei and shout: "Death to the dictator!"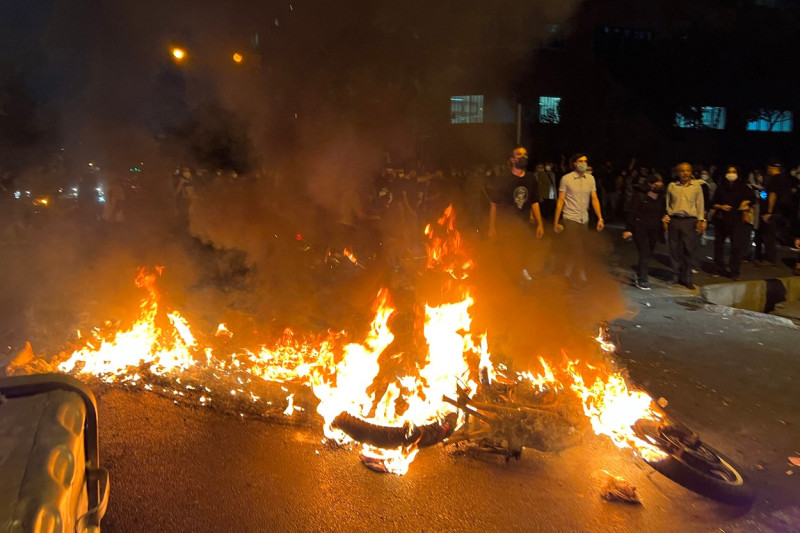 In another footage, young protesters in Tehran march around a bonfire in the middle of the street at night and shout: "We are the children of war. Come, fight and we will fight back".
Street demonstrations were held in almost all provincial cities in the Kurdish region of Iran, such as Kermanshah and Hamedan.
Feminist protests in a deeply conservative country
The protests stand out for their large scope, the ferocity of the demonstrators and their feminist nature. The last such protests took place three years ago, after the government raised the price of gas.
Witnesses told CNN that Tuesday night's protests appear to have been of the "flash" type, where groups gather and then disperse very quickly to avoid clashes with Iranian security forces.
However, at least five protesters have been shot dead during demonstrations in the Kurdish region in recent days, according to the Hengaw Human Rights Organization.
According to the organization, another 75 people were injured in cities where protests were held over the weekend. Protests erupted after the death of Mahsa Amini, who was stopped and detained by Iran's "morality police".
Mahsa Amini died after being placed in a morality police re-education center
Amini was with her brother in Tehran when she was arrested by police for allegedly violating Iranian law requiring women to cover their heads, hands and feet.
Iranian officials said Amini died on Friday after suffering a heart attack and falling into a coma while in custody. Her family said, however, that the woman had no heart problems, according to Emtedad news.
Footage shared by Iran's state media shows Amini collapsing in a "re-education" center where she has been sent to be "counseled" about her attire.
There were reports that the police beat Amini with a baton and smashed her head against one of their cars, according to the acting UN High Commissioner for Human Rights, Nada al-Nashif, writes the BBC.
Iran's morality police is one of Iran's law enforcement agencies and is tasked with enforcing the Islamic Republic's very strict social rules, including the dress code requiring women to cover their heads with a hijab when in public.
During Monday's press conference, Tehran police commander Hossein Rahimi dismissed the "false allegations" leveled at Iranian police, saying they had "done everything" to keep Amini alive.
Rahimi added that Amini was not physically harmed while in police custody, calling her death an "unfortunate" incident.
Editor: Raul Nețoiu
1