08-25-2022
|
18:56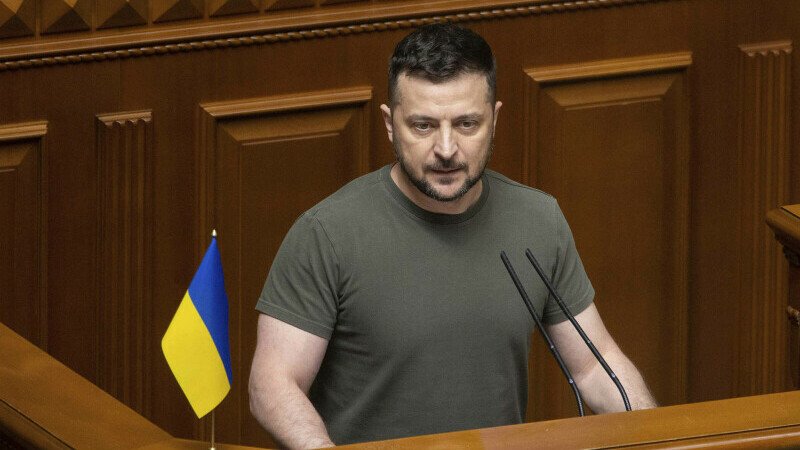 Volodymyr Zelenskiy's advisers worried in the early days of the invasion that Russian forces would try to kill the Ukrainian president with lethal gas.
A new Washington Post report cited by businessinsider.com shows that in the early days of the war, as Russian forces advanced toward Kyiv, there were fears that President Zelensky could be killed with a potentially lethal gas.
Oleksiy Arestovych, a military adviser to Zelenskiy, says the Ukrainian leader was warned by the presidential guard that his office was a "aim".
Zelensky's military adviser urged him at the start of the Russian invasion to move to a location outside Kiev.
"There was talk of barricading the exits and releasing the gas"Arestovich said of the approaching Russian forces.
Oleksiy Danilov, head of Ukraine's National Security and Defense Council, also warned Zelensky that there was information indicating a plan to kill or capture him.
Zelenski was also warned to make sure anyone around him who owns a gun is trustworthy.
This information was revealed as Moscow made false claims that Ukraine was ruled by the Nazis, thus justifying the invasion.
Volodymyr Zelenskiy is the first Jewish president of Ukraine, and there were people in his family who died during the Holocaust.
Zelensky, famous for the line: I need ammunition, not a ride
At the time, Zelensky seemed aware that his life could be in danger at any moment.
"This may be the last time you see me alive," said Zelesnki at the end of February, addressing world leaders.
Despite warnings, Volodymyr Zelensky refused to leave Kiev, a move by the Ukrainian president applauded around the world.
The Ukrainian leader is now famous for the line: "The fight is here. I need ammunition, not a ride."
Source: Business Insider
Tags: Russia, Ukraine, Volodymyr Zelensky,
Publication date: 25-08-2022 18:51
1
2
3
4
5
6
7
8
9
10
11
12
13
14