"China is willing to cooperate with Russia to shoulder the responsibility of great powers and inject stability and positive energy into a world engulfed in chaos," Chinese President Xi Jinping said.
The statements were made during the summit of the Shanghai Cooperation Organization, organized in Uzbekistan. And yet, Vladimir Putin's position is severely affected by the Russian military fiasco in Ukraine. And President Xi must have noted the West's united response to the invasion of Ukraine, in case he has similar plans for Taiwan.
At the main meeting of the summit in Uzbekistan, the Russian president launched his usual arrows against the West.
Vladimir Putin, President of Russia: Russia is providing assistance to solve problems such as energy and food, which are aggravated by systematic mistakes made by major economies of the planet in the sphere of finance or energy.
On Thursday, instead, during Putin's meeting with his Chinese counterpart, the elephant in the room, that is, Russia's invasion of Ukraine, could not be ignored.
Vladimir Putin: I understand your questions and concerns about the conflict in Ukraine. I will explain our position on this matter in detail, even though we have talked about it before.
Ivan Watson, CNN Correspondent: "Questions and concerns" sounds like a change of tone from the previous meeting of the two leaders, in early February, on the occasion of the opening of the Olympic Games in Beijing, when they explicitly shared their distrust and antipathy towards the American government. They were then talking about a partnership without limits and the creation of a new world, no longer dominated by the US. A few weeks later, Putin launched the invasion of Ukraine, which did not go according to the Kremlin's plans at all. The Russian army suffered multiple humiliations, and Putin is more isolated than never. And it needs China more than ever.
"We have to abandon games with zero results and politics that consists in creating blocs", Xi Jinping declared, for his part, in front of the participants of the summit. The Chinese president did not name any countries, but China generally uses this type of speech to denounce the United States and its allies.
Xi Jinping, President of China: Currently, the evolution of major changes, unseen for a century, is gaining speed. The world has entered a phase of upheavals and changes. We should seize the moment and strengthen our solidarity and cooperation and promote the construction of a solid community within the Shanghai Cooperation Organization. We should support each other's efforts to protect security and development interests, preventing external forces from inciting color revolutions or interfering in the internal affairs of other states.
CNN Correspondent: We haven't heard from Xi Jinping, however, full-throated support for Russia's war in Ukraine, and the White House has been quick to highlight this, pointing out that when it comes to partnerships, they stop at common pits. from Ukraine. If the Biden administration has so far not noticed any signs of Chinese aid for Russia's war machine, instead, Beijing has been massively buying cheap energy from Russia.
Moreover, Vladimir Putin declared himself convinced that trade will exceed 200 billion dollars this year, compared to 140 billion last year.
Little, stuck in the middle
Those attentive to details made a big deal of the scene in which, during a casual discussion, Vladimir Putin and the President of Belarus sat huddled together on a short couch and listened to the Turkish leader, Recep Tayyip Erdogan, who dominated them slightly, sitting on a higher chair.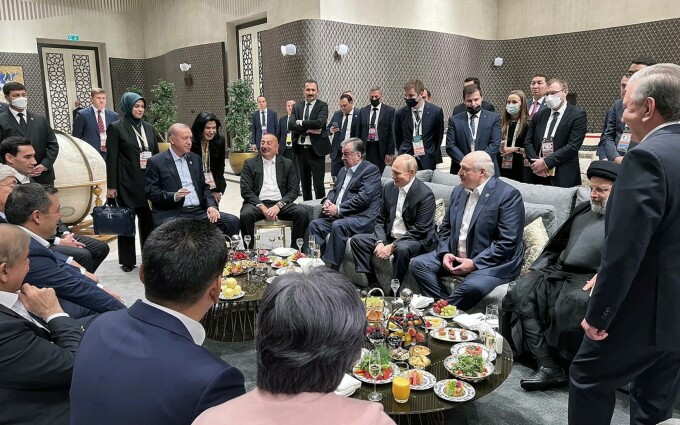 Profimed
Observers also found a symbol in the floral arrangement placed between Putin and Xi Jinping, referring to a … coffin.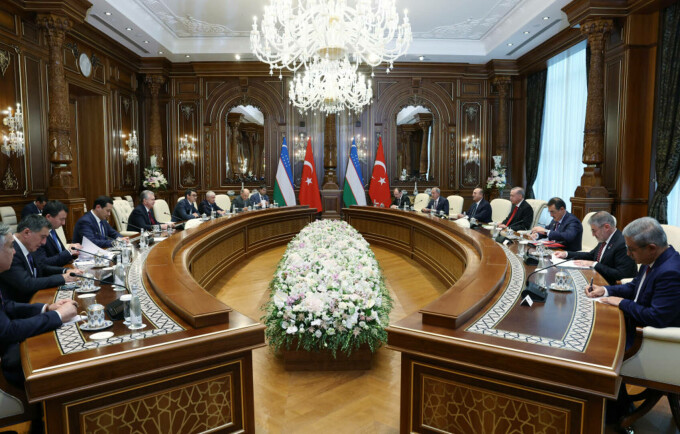 Getty
Source:
PROTV news
Tags: Russia, Vladimir Putin, China, Xi Jinping,
Publication date: 16-09-2022 19:12
1