30-09-2022
|
5:30 p.m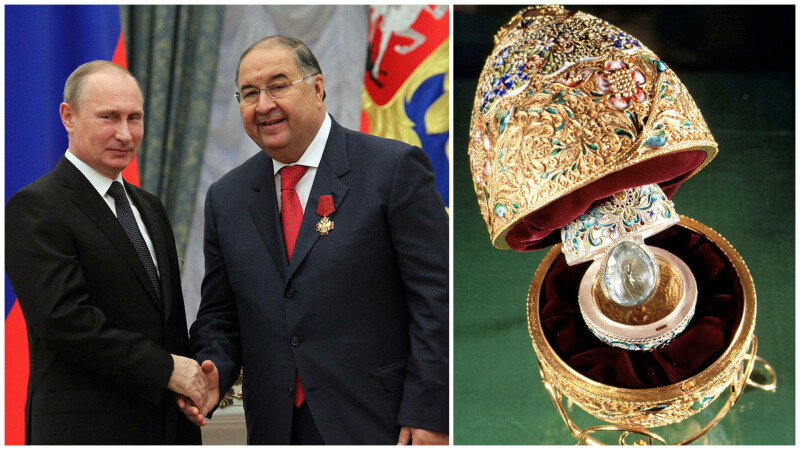 Alişer Usmanov is a friend of Vladimir Putin, and several German villas have been searched because he is suspected of money laundering. According to German media, the police found very special pieces of jewelry.
German authorities have raided 24 homes in the country linked to Russian oligarch Alisher Usmanov, one of Vladimir Putin's friends, who is now accused of money laundering.
Following the raids, in one of Alișer Usmanov's villas in Tegernsee, rare jewels were discovered in a safe, including four of the famous Fabergé eggs.
The authenticity of the exclusive jewelry is now verified by the authorities. Fabergé eggs were made by Russian goldsmith Peter Carl Fabergé in the late 19th century. They are shaped like Easter eggs, richly decorated and partially encrusted with pearls and diamonds. Tsar Alexander III ordered the first eggs.
Unique objects are extremely valuable, but extremely difficult to quantify. In 2007, the so-called Rothschild egg was sold at Christie's in London for about 12.5 million euros. Many of the eggs are on display in museums, but there are also numerous fakes circulating. Ten of them are in the Kremlin, and six eggs are considered missing.
Usmanov has an EU visa until 2025
During Wednesday's raid, police gained access to, among other things, three residential buildings and a warehouse in Rottach-Egern. In total, 24 homes were searched. The purpose of the raid was to gather evidence in previously hidden proceedings against billionaire oligarch and Putin friend Alisher Usmanov on suspicion of money laundering and tax evasion, among other things.
Over the past few months, the BKA's Organized Crime and Serious Crime Division has collected nearly 100 reports of suspected money laundering from banks allegedly related to Usmanov's transactions.
It is not yet known if officers uncovered any valuable information during the raid. Contacted by the SPIEGEL publication, Usmanov's spokesman emphasized that the entrepreneur was an attentive and law-abiding taxpayer. He is also one of the most generous philanthropists in the world.
After Russia's invasion of Ukraine began, Usmanov was placed on the European Union (EU) sanctions list. According to the cited source, in recent years, he officially came to Germany with an Italian tourist visa, valid throughout the European Union. Until now, security circles suspected that he might currently be in Uzbekistan. Thanks to this tourist visa, he could theoretically still be in Germany: the visa is valid until 2025.
Source: Spiegel, space.com
Tags: vladimir putin, Alişer Usmanov, faberge,
Publication date: 24-09-2022 14:33
1