The launch took place despite the challenges and supply problems raised by this innovative technology, according to AFP, quoted by Agerpres.
The fleet of 14 trains, supplied by the French group Alstom in the state of Lower Saxony, now runs on the 100-kilometer line that connects the cities of Cuxhaven, Bremerhaven, Bremervorde and Buxtehude, located a short distance from Hamburg.
Germany's hydrogen trains are a 'world first'
???????????? It's official! The world's first #hydrogen train, our Alstom Coradia iLint, has reached yet another historical #milestone today in #Germany. It is now in passenger operation with our partners #LNVG, @evb_ElbeWeser and @Lindeplc.

Learn more: https://t.co/DK0kcQA4cY pic.twitter.com/T5v1gdSnL2

— Alstom (@Alstom) August 24, 2022
"We are very proud to have been able to bring this technology to commercial operation in a world first," Alstom CEO Henri Poupart-Lafarge said Wednesday.
Conceived in France, in the city of Tarbes, and assembled in Salzgitter, in Germany, the Alstom group's Coradia iLint hydrogen trains represent a first in this sector of activity.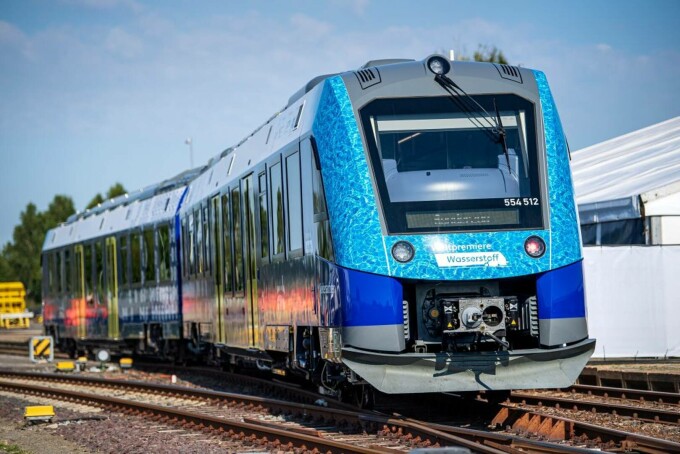 Getty
The new technology is the preferred measure by German authorities to reduce carbon dioxide emissions and to replace diesel locomotives, which still operate on 20% of Germany's railway routes.
The train fleet will avoid the generation of 4,400 tons of carbon dioxide
The new fleet, which cost "93 million euros", will avoid the situation where "4,400 tons of CO2 would be generated every year", according to LNVG, the regional operator of the network.
Commercial tests have been carried out since 2018 on this line, providing for the regular circulation of two hydrogen trains.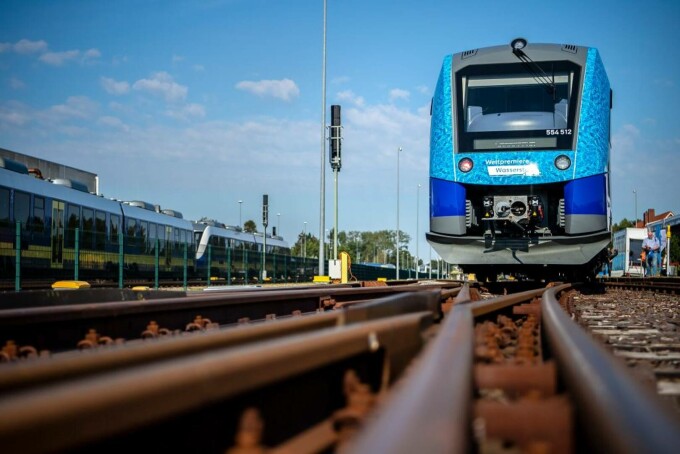 Getty
Other rail links will follow suit: the Alstom group has signed four contracts for dozens of trains in Germany, France and Italy, and has announced that demand will continue to grow.
In Germany, thousands of diesel trains will be able to be replaced by hydrogen trains
"In Germany alone, between 2,500 and 3,000 diesel trains will be able to be replaced by hydrogen trains," said Stefan Schrank, project manager at Alstom.
"On the horizon of 2035, approximately 15%-20% of the European regional market will be able to operate with hydrogen", said Alexandre Charpentier, railway expert at Roland Berger consultancy.
Hydrogen trains are particularly efficient for small regional lines, where the cost of a transition to electric trains would be too high in relation to the profitability of the links.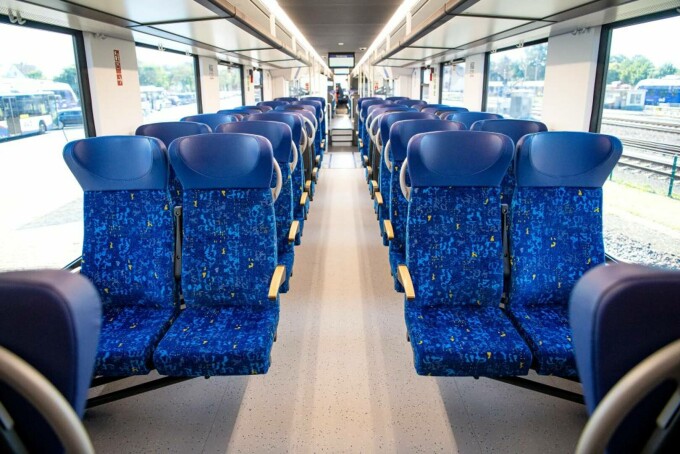 Getty
The new train designed by Alstom combines the hydrogen on board with the oxygen present in the ambient air, thanks to a fuel cell installed in the ceiling. The latter produces the electricity needed to drive the gaskets.
Alstom's competitors also entered the race. The German manufacturer Siemens unveiled in May a prototype train in collaboration with Deutsche Bahn, with a view to entering service as early as 2024.
But despite these optimistic outlooks, "there are real barriers," according to one expert.
Road transport, air transport and heavy industry rely on hydrogen to reduce CO2 emissions
Not only trains are "thirsty" for hydrogen. The entire transport sector, including road and air, as well as heavy industry, especially steel and chemistry, rely on this technology to reduce their CO2 emissions.
Although Germany announced in 2020 an ambitious seven-billion-euro plan to become a leader in hydrogen technologies within a decade at most, the necessary infrastructures are still lacking in this country – as well as in Europe – be it production, either about transport, also requiring colossal investments.
"For this reason, we do not expect a 100% replacement of diesel trains with hydrogen-based trains," said Alexandre Charpentier.
Hydrogen must be green to be sustainable
Moreover, hydrogen is not necessarily a decarbonized product: only "green hydrogen", manufactured with the help of renewable energies, is considered a sustainable product by experts.
Other manufacturing methods exist, much more current, but they emit greenhouse gases, because they are designed on the basis of fossil energies.
A proof that this resource is still missing: the railway line in Lower Saxony will, in a first stage, have to use the hydrogen produced by certain industries, such as the chemical one.
95% of hydrogen is obtained from fossil fuels
According to the French research institute IFP, specialized in energy matters, hydrogen "is currently obtained in a percentage of 95% from the transformation of fossil energies, of which almost half is based on natural gas".
However, the European Union is already facing tensions regarding its supply of Russian gas against the backdrop of polemics with Moscow due to the war in Ukraine.
"Political decisions will have to prioritize which sector hydrogen production will or will not go to," said Alexandre Charpentier.
Germany will also have to buy this resource from abroad to meet its needs. Berlin signed an agreement in Toronto on Tuesday to massively import renewable hydrogen produced in Canada as early as 2025.
Source:
Agerpres
Tags: train, Germany, hydrogen,
Publication date: 25-08-2022 10:25
1