China launched, on Thursday, military exercises with live fire in six areas around Taiwan, a day after the visit of the president of the US House of Representatives, Nancy Pelosi, to the autonomous island that Beijing considers Chinese territory, reports Reuters.
Taiwan's Ministry of Defense said it had activated defense systems in response to China's action. "We condemn such an irrational action that endangered regional peace," the ministry said.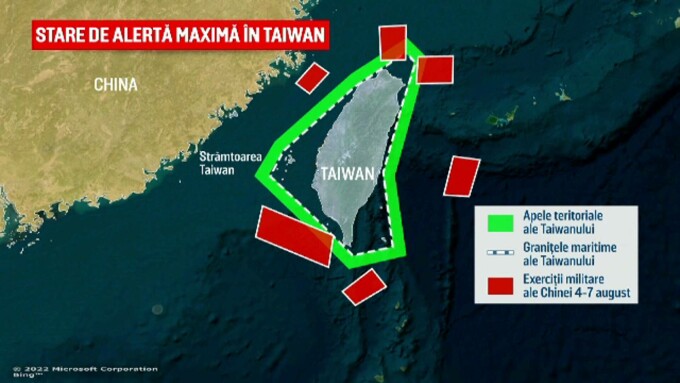 China has launched missiles near the coast of Taiwan
Shortly after the scheduled start of the exercises at 4:00 GMT (7:00 a.m. Romanian time), China's state broadcaster CCTV announced that the exercises had begun and would end at 4:00 a.m. GMT (7:00 a.m. Romanian time) on Sunday. These would include firing live ammunition into the waters and airspace around Taiwan, the statement said.
Shippers are rerouting vessels as China begins largest-ever military exercise around Taiwan
?????????????????????

⚠️ China began drills at noon and advised ships not to get near the exercises
???? The disruption is the latest inconvenience for strained supply chainshttps://t.co/U91vqjqvlp pic.twitter.com/mw1KFNW2Yj

— Stephen Stapczynski (@SStapczynski) August 4, 2022
The Chinese army fired unidentified projectiles towards the Taiwan Strait on Thursday, shortly after the start of major military exercises around the island of Taiwan, claimed by Beijing, AFP and Reuters report.
WATCH: PLA Eastern Theater Command Rocket Force launched conventional missiles to designated waters in the east of the island of Taiwan on Thu pic.twitter.com/WpFURLeN8X

— Global Times (@globaltimesnews) August 4, 2022
In Pingtan, a Chinese island located near the ongoing military exercises, AFP reporters saw several projectiles fired into the sea at around 13:13 local time (0513 GMT).
The PLA began a three-day exercise around Taiwan.#China #Taiwan pic.twitter.com/FyTJkPNSF1

— 301 Military (@301military) August 4, 2022
Tourists who were on Pingtan Island, located on the seashore, witnessed these shootings.
China holds military drills encircling Taiwan following Nancy Pelosi's visit

Read here: https://t.co/4xqjgNZfwW#NancyPelosi #Taiwan pic.twitter.com/xJaIPrpVzc

— editorji (@editorji) August 4, 2022
China begins a series of military drills in Taiwan Strait as a response to US House Speaker Nancy Pelosi's highly controversial visit to Taiwan pic.twitter.com/Q42LvMdwfi

— TRT World Now (@TRTWorldNow) August 4, 2022
Taiwan condemns China's military exercises
Taiwanese officials said the drills violate United Nations regulations, invade Taiwan's territorial space and pose a direct challenge to free air and maritime navigation.
China is carrying out exercises on the busiest international waterways and air routes and this is "irresponsible, illegitimate behavior", stated the Democratic Progressive Party (DPP) in Taiwan.
Also, the spokesman of the cabinet in Taiwan, expressing serious condemnation of the exercises, said that the websites of the Ministry of Defense, the Ministry of Foreign Affairs and the presidential office were attacked by hackers.
On Wednesday evening, just hours after Pelosi left for South Korea, unidentified aircraft, possibly drones, flew over Taiwan's Kinmen Islands area near the mainland coast, Taiwan's Ministry of Defense said.
Major General Chang Zone-sung of the military's Kinmen Defense Command told Reuters that the drones flew in tandem over the Kinmen area twice on Wednesday night at around 9pm and 10pm local time.
"I immediately fired flares to give warnings and drive them away. After that, they came back. They entered our restricted area and that's why we dispersed them," he said.
China, which claims Taiwan as its own territory and reserves the right to take it by force, said on Thursday that its differences with the self-governing island are an internal matter.
"Our punishment against ardent pro-Taiwan independence supporters of foreign forces is reasoned, legal," said the Taiwan Affairs Office in Beijing, China.
Unusually, the drills in the six areas around Taiwan were announced via a location map released by the official Xinhua news agency.
On Thursday, the top eight trending articles on the Chinese platform Weibo were Taiwan-related topics, with most expressing support for the Chinese exercises or anger over Pelosi's visit.
"Let's reunite the motherland," wrote several users.
"I think this (Pelosi's visit) is a good thing. It gives us the opportunity to encircle Taiwan, then use this opportunity to take Taiwan by force. I think we should thank Comrade Pelosi," said a resident of the capital's central business district.
Source: PROTV news
Tags: china, taiwan, military exercises,
Publication date: 04-08-2022 09:32
1