More and more people started to receive astronomical electricity bills, and this for the summer months.
The consumption was compared to that of last year, in the same period, and if it was higher than the threshold of 300 kilowatts, the tariff applied is that of the free market, which has tripled since the spring for some suppliers.
However, consumers were not informed and did not know from 2021 that they have to save. Meanwhile, the energy minister advises us to change the light bulbs and appliances, but he doesn't know with what money either.
Dozens of people woke up with huge electricity bills for July and August. We are talking about 3-4 times higher amounts compared to previous months.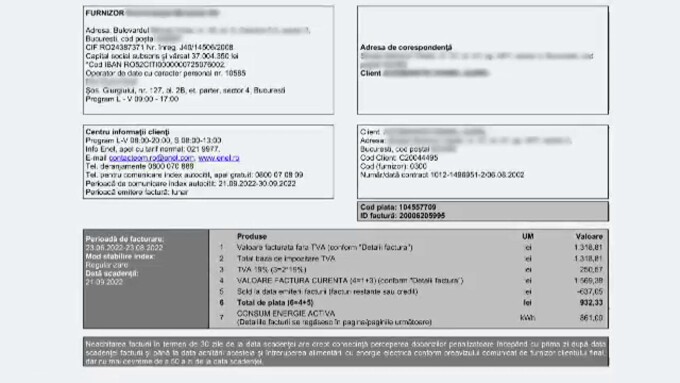 Desperate, many asked the energy suppliers they subscribe to for explanations. Once for the amounts but also because they received cumulative invoices.
Woman: "That's why I came. 1,150 lei. For 2 months accumulated, we did not receive invoices last month. We came to make a complaint, the consumption is ok, but the amount of the invoice is not. It's at 1.9 lei/kw, it doesn't seem normal to me, from 80 money."
Man: "No invoice came, we have to do the minimum. We haven't received the bill for two months. We will switch to the lowest payment system. Everything in the house is only on LED, economy."
Most of the Romanians do not know that the average monthly consumption of last year is taken into account in the calculation of the bills, but at the current price of the kilowatt.
Georgiana Pocol, correspondent for Stirile Pro TV: "A consumer received an invoice of 1,500 lei for the months of July and August combined, with a consumption of 861 kwh. The calculation was made as follows. The energy supplier referred to the average monthly consumption of last year, which, as you can see, in his case, was 348…. That is, he exceeded the ceiling threshold. The consumption in these two months is calculated at the price on the free market, which in the case of some companies reaches 2 lei per kwh, well above the kw value, if it would have been within the ceiling, in which case the price is 0.8 lions."
Dumitru Chisăliță, energy expert: "The law appeared only in April, so it is clear that there was no information last year. Considering that there are a lot of suppliers who have sent their invoices late, this is practically the moment when people realize the actual situation. In the situation where a consumer who last year had an average of 300 kwh per month, regardless of his consumption this year, he will pay the market price, this means that if he absurdly only had 2 kwh, he would pay the full market price, regardless of the economy which he did. This is the legal provision and unfortunately people will face this situation, many will be surprised to see that they pulled hard to make savings and with all that they will pay a high price."
Bills also 1,300 lei lower if you change supplier
Those who are dissatisfied can move to another electricity supplier. Find offers on the website of the National Energy Regulatory Authority – anre.ro, where there is also a comparator.
We took, for example, an estimated consumption of 588 kwh, for which we have to pay according to the invoice 1,126 lei. On the website we find 87 offers from different companies.
For example, for the same consumption, I would pay around 405 lei at HIDROELECTRICA, and up to 1,700 lei at another supplier.
Virgil Popescu, Minister of Energy: "For individuals at home, here we have to come to the aid of the place, changing household appliances with efficient appliances that have class A+ A++, which should be with A in front. And there people need to be helped because it is not easy to change, you have to have the money to change. Savings efforts are only partially seen in the bill. We are thinking of a way to subsidize those who wish to do so. And we want to come not only with have to pay more if they consume more, and if somehow they save to earn something. And we are thinking of combining these 2 things."
Since September, the state has lowered the cap to 255 kwh. Between 255 and 300 kw you benefit from partial capping. For what you consume over you will pay per kilowatt at the free market price.
Source: PROTV news
Tags: energy, bills,
Publication date: 14-09-2022 19:17
1